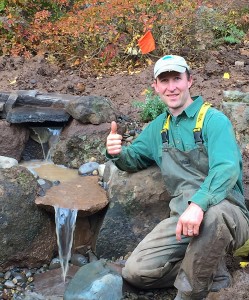 Jamie Whitney is the Owner/Contractor for LandArc Landscaping & Design.  He is licensed as a Landscape Construction Professional by the Landscape Contractors Board in the State of Oregon.
Jamie's life path is following a trajectory that combines art, design, community, and ecology.
Jamie Whitney's educational pursuits have provided a focus in Landscape Architecture, Parks and Forest Recreation, and Ecosystem Management.  Recently, he graduated with a Bachelor of Landscape Architecture Degree from the University of Oregon.  This education demonstrates a keen awareness of nature, with an ability to identify barriers and design solutions.
He is highly skilled and confident at executing all levels of both the design and the construction of landscape space.  With over 15 years of carpentry experience, Jamie custom builds structures in the landscape, such as decks, pergolas, patios, and fences.  He is also experienced in preparing schematic design, design development, and construction documents with the use of Photoshop, Illustrator, InDesign, SketchUp and AutoCAD.  In addition, he is proficient with hand drawing and rendering illustrative images with a variety of media.
Jamie Whitney is living in the beautiful Willamette Valley with his wife and two children.  He is inspired by nature and is passionate about community.  With a positive intention, Jamie is designing and building landscapes to connect people with nature.
… Changing the world one landscape at a time.